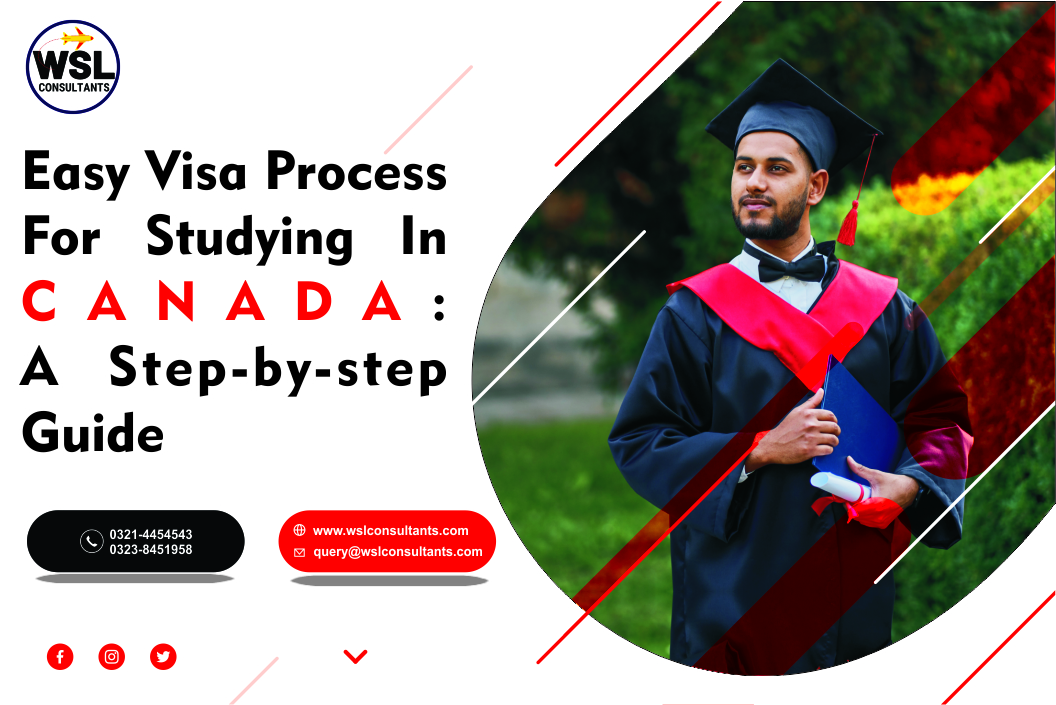 Introduction: Studying in Canada offers a world-class education, diverse cultural experiences, and excellent career prospects. If you're considering pursuing your education in Canada, it's essential to understand the visa application process. In this step-by-step guide, we will outline the key stages of obtaining a study visa for Canada, making your journey smoother and hassle-free.
Step 1: Research and Choose Your Institution Begin by researching Canadian educational institutions and selecting the one that best suits your academic goals and interests. Consider factors such as program offerings, location, cost, and reputation. Once you have decided on your preferred institution, ensure that it is designated by the Canadian government to accept international students.
Step 2: Check Admission Requirements Review the admission requirements of your chosen institution carefully. Each university or college may have specific criteria, such as academic qualifications, language proficiency (usually English or French), standardized test scores (like IELTS or TOEFL), and prerequisite courses. Ensure that you meet these requirements before proceeding.
Step 3: Apply to Your Chosen Institution Submit your application to the selected Canadian educational institution. Follow their application process, which typically involves providing personal information, academic records, recommendation letters, and an application fee. Ensure that you meet all the deadlines specified by the institution.
Step 4: Receive Letter of Acceptance (LOA) If your application is successful, the institution will issue you a Letter of Acceptance (LOA). This document is essential for your visa application and will include important information such as your program start date, duration, and any conditions you must fulfill before enrollment.
Step 5: Gather Required Documents Start gathering the necessary documents for your visa application. These typically include a valid passport, proof of acceptance from a designated learning institution, financial documents to demonstrate your ability to support yourself during your studies, medical examination results, and a police clearance certificate. Check the official Canadian government website for the complete list of required documents.
Step 6: Submit Your Study Permit Application Visit the official website of Immigration, Refugees, and Citizenship Canada (IRCC) and complete the online study permit application. Pay the application fee and upload all the required documents, including your LOA. Ensure that you provide accurate and truthful information throughout the application.
Step 7: Biometrics and Medical Examination (If Required) Depending on your nationality and other factors, you may be required to provide biometrics (fingerprints and a photo) at a Visa Application Centre. Additionally, some applicants may need to undergo a medical examination by a designated panel physician.
Step 8: Wait for Processing and Decision After submitting your study permit application, wait for the processing time, which can vary. During this period, IRCC officials will review your application, including your documents and background information. You may be contacted for an interview or additional documentation if needed. Once a decision is made, you will be notified by the IRCC.
Step 9: Obtain Your Study Permit If your application is approved, you will receive a Letter of Introduction (LOI). To finalize the process, you must present the LOI to the immigration officer when you arrive in Canada. The officer will issue your study permit, allowing you to study in Canada legally.
Conclusion: Obtaining a study permit for Canada involves several steps, but with thorough preparation and attention to detail, it can be a smooth and straightforward process. Remember to research your chosen institution, meet admission requirements, gather necessary documents, and submit a complete and accurate application. For further assistance or a free assessment of your eligibility, feel free to contact us at [email protected]. Good luck with your studies in Canada!